The AR-15: It's America's rifle. It could be because it's useful for so many different applications. It could be because it's light-recoiling. It could be because it has such a long history. Or maybe it's because it's so modular.
On the latter note, we carry a huge range of AR15 accessories and parts for upgrades. These are some of the best of them.
Muzzle Brake: For Recoil Mitigation
Those of you shooting an AR chambered in .223 or 5.56: you already have a light-kicking platform. But if you want to make it even better, install a muzzle brake.
Muzzle brakes are muzzle devices, but don't confuse them with suppressors. They alter how gases are distributed at the muzzle, optimizing gas release and mitigating felt recoil.
Some muzzle brakes can reduce felt recoil by as much as 50% without affecting shot power at all.
Brass Catchers: For Frequent Range-goers
Does your range have a rule requiring you to pick up your spent brass? Then get a brass catcher. For a few dollars, you can get one and installing it is easy and requires no permanent modifications.
Brass catchers are also useful for those that reload, as they keep brass off the ground, making sorting and cleaning easier.
That said, a brass catcher is also just a nice courtesy to your range neighbors. No one likes dancing around hot brass.
Optics: Red Dots vs. Scopes
Whatever you use your AR for, unless you're dedicated to iron sights, you should install some sort of optic.
There are two broad classes that we're going to focus on: scopes and red dot sights.
Red dot sights project a dot of light onto a plate of glass and produce one point of aim that is free of parallax distortion.
Scopes often magnify the sight picture, making it easier to make long shots on targets, but they obstruct the peripheral sight picture and making quick shots with them can be harder.
In general, you should use a red dot if you're accustomed to making rapid, close-range shots, such as if you compete.
If you're a long-range shooter or a hunter, a scope is probably a better choice for you.
AR15 Sights: Why Backup Iron Sights Are a Must
Whatever optic you put over your receiver, we're here to say that you also need backup AR15 sights, period.
Here's why. The basic answer is that two is one and one is none. What if your scope shatters or gets water in it and is fogged up? What if the battery dies on your red dot?
Flip up backup AR15 sights are a foolproof failsafe. They require no batteries, are dustproof, shockproof, fogproof, waterproof, and (technically) work in the dark, at any range.
Either way, shooting over iron sights is a skill that all shooters should have, and flip up offset backup iron sights will make sure you're never up a proverbial creek.
A Single-Point Sling: Better Retention for 3-Gun Competitors
While you can outfit your AR with a conventional 2-point sling, single-point slings are a little bit easier to maneuver in tight quarters.
Plus, they're not meant for carrying the gun; they're really just meant to aid in weapon retention while keeping your rifle close to your body if you ever have to draw your sidearm.
Which means for 3-gun competitors, who often need to switch back and forth between a rifle and a handgun, they're ideal.
Magpuls: For Faster Reloads
Another good accessory for a 3-gun competitor is a set of Magpuls. These are the original accessories that put Magpul on the map.
It's in the name: "mag pull'; these are basically loops that go on the base of the mag so they're protruding and easy to grab when the mag is loaded into a vest or pack.
They enable faster, easier reloads, which are great for those in competition.
Speedloaders: Get More Range Time for the Money
Do you shoot at a supervised range that charges by the hour? If so, speedloaders are your friend.
By all means, make sure you bring several loaded mags to the range as it is so you can spend your time shooting and not loading.
But still, get a speedloader so when you do burn through your loaded mags you don't waste time sitting at the bench cramming rounds into your mags.
Think of it as an investment in your range time.
Drop-in Timney Triggers: Crisper, More Accurate
Mil-spec triggers are alright, but just that. They're not great. A drop-in Timney tigger makes a great upgrade.
Drop-in Timney AR-15 triggers are crisp, accurate, exhibit precise engineering, and are extremely reliable. They're also made with durable components.
What else could you expect from one of the world's oldest trigger manufacturers. Timney triggers are also easy to install - no gunsmith needed.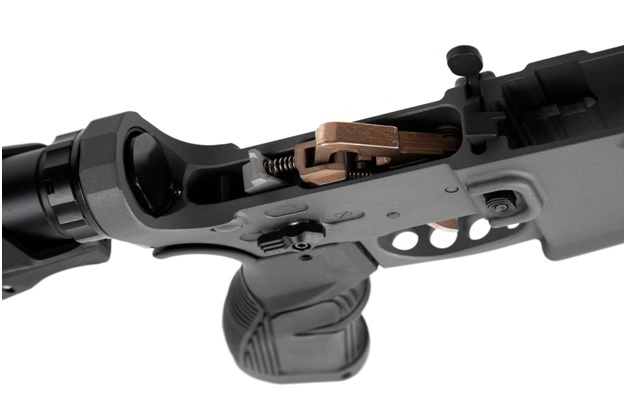 M-LOK Handguards: Lower Weight
Not a fan of the Picatinny rail (or worse, the retro M16-style handguard) that came with your AR-15?
M-LOK handguards may offer you some respite. They offer basically every advantage over Pic rails and are just as strong and much lighter. Plus, they're not as likely to snag on your gear.
The only thing we can say against them is that there might not be as many accessories that are M-LOK rail system compatible, but that is quickly changing.
WMLs: See in the Dark
The last AR-15 accessory we'll advocate for in this post is a WML, or weapon-mounted light.
There is a saying: what you can't see can kill you. It's true, and a WML can put the advantage in your court.
Get a model that is durable, reliable, waterproof, and has good lumen and candela ratings. Anything over 1,000 lumens is good but you want a good candela rating too, which measures how well the beam is focused downrange.
Also, it should go without saying but make sure you get one compatible with your rail mounts.
AR15 Sights to Single-Point Slings: We Have Them All
Ready to upgrade your sporting rifle with AR15 sights, a new sling, and a light? We carry them all here. Take a look through our collection and contact us at Sales@MCSGearup.com if you have any questions.