Pistol braces are an accessory that attaches securely to the rear of your gun and enables you to fire the firearm with one hand. Also known as stabilizing braces, they slip around the shooter's forearm and secure to the arm using Velcro. They help to stabilize the gun as you are firing.
Pistol braces are especially popular among disabled shooters because they allow them to control and fire AK and AR carbines safely. In fact, SB Tactical's Alex Bosco, the person who invented the brace, came up with the idea in 2012 after shooting at a range with a disabled combat veteran and seeing the struggles of disabled shooters. Pistol braces help shooters who struggle while using a full-length, shouldered rifle enjoy AR-style firearms comfortably.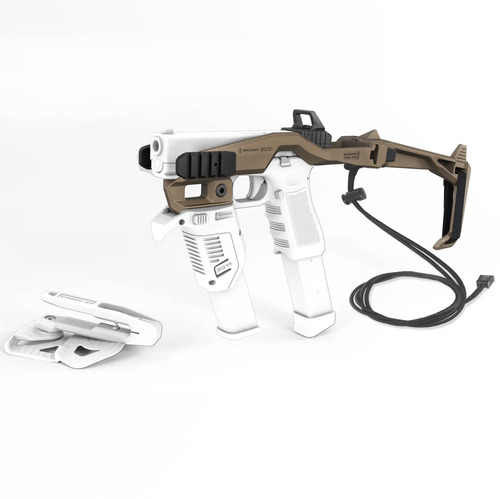 Braces vs. Buttstocks
How are braces different from buttstocks? The important element comes down to how braces and buttstocks are used. Buttstocks fit against the shoulder, enabling better management of the recoil of the rifle. One drawback is that they are not secured to shooters in any way. On the other hand, pistol braces use Velcro to attach to the shooter's forearm. They provide excellent stability while firing the AR pistol.
Pistol braces have opened a world of options and accessories to gun enthusiasts who look for a way to stabilize their AR pistols but do not have the want or means to add buttstocks.
Exceptional Design
Pistol braces look and function a lot like rifle stocks. They showcase a visually appealing design, which makes it perfect for gun owners who want their firearms to not only have great functionality but also look equally attractive.
Choosing a Brace
Today, a wide range of pistol braces are available in the market. The most noteworthy and largest manufacturer is SB Tactical, a company providing braces for almost every platform you can think of and originator of the stabilizing brace. Braces come in a wide of configurations including folding flavors, fixed, telescoping, and friction fit that are made of aluminum, rubber, plastic, and/or polyurethane — all in differing weights, shapes, and sizes. The most famous braces today are of the telescoping variety like SB Tactical's SBA3 and SBM4, Gear Head Works Tailhook or AR & MCX/MPX pistols from SIG Sauer and Maxim Defense PDW Brace.
So, where does this leave pistol braces and gun owners? For now, braces continue to legally be sold & fitted onto AR pistol platforms. If you are looking to buy premium-quality pistol braces, then MCS Gearup is the perfect place for you. It is the ultimate shopping destination for all your firearm needs. They sell a wide variety of buffer tubes, muzzle brakes, optics, shotguns, sights, rails and handguards, and more.