Glock is a semi-automatic handgun known for its accuracy and reliability. It is manufactured by a federally certified handgun maker in the United States. However Glock, or for that matter any traditional handgun comes with limited range and accuracy. As you pull the trigger, the subtle movement in the interiors leading to the arms recoil cause shift in the path of the bullet fired from the handgun. A conversion kit like Micro-Roni or MCK provides enhanced control and long-range accuracy. It makes long-range shooting fun and the weapon safe to use in limited space like entryways with enhanced accuracy.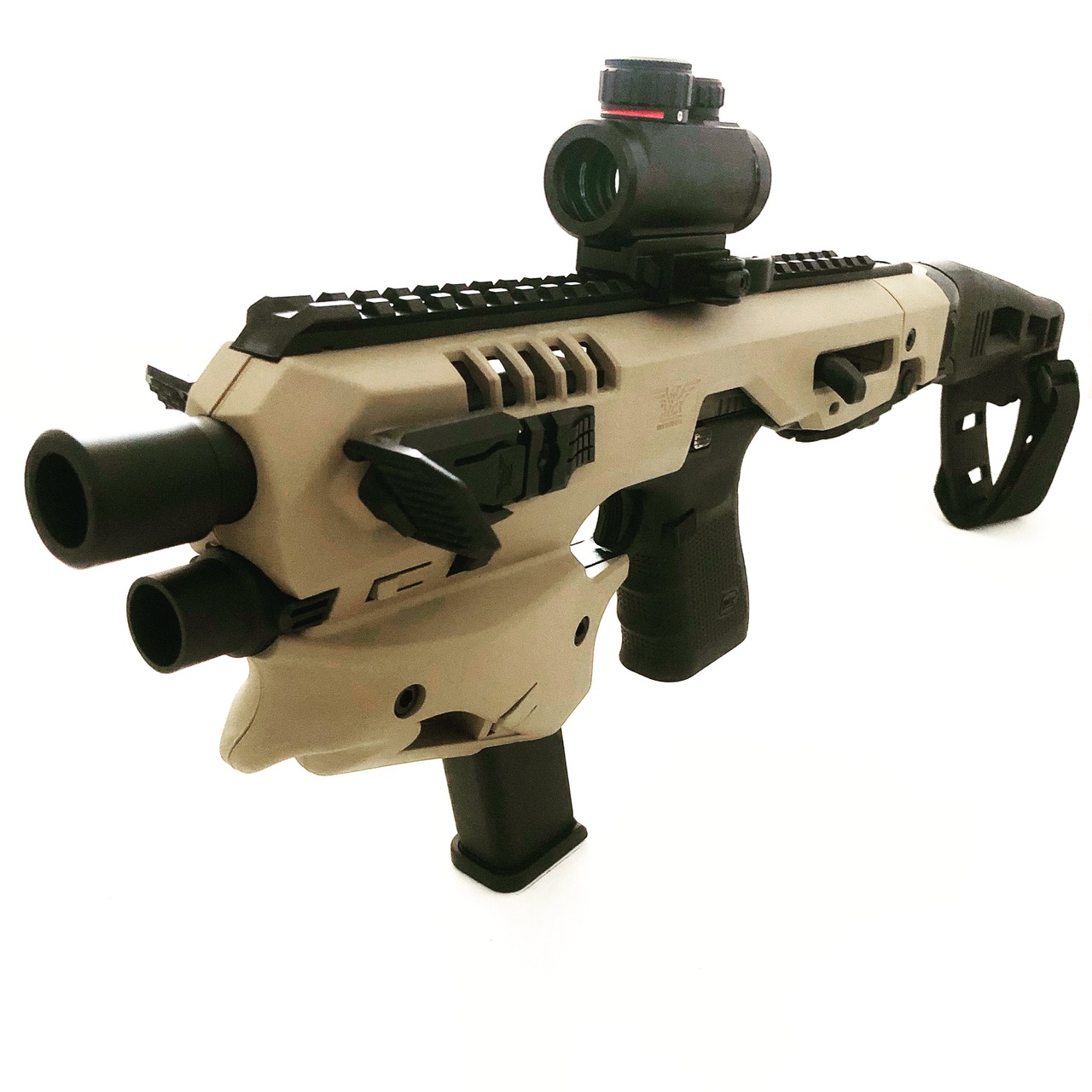 If you are considering the online purchase of a suitable MCK micro conversion kit, you should check out these factors that will help you make the befitting choice.
1. Functionality and Compatibility
When it comes to buying a conversion kit, expert gun owners check out the compatibility factor of the conversion kit. The more handguns the conversion kit is compatible with, the better it is. Some MCK micro conversions kits let you make easy conversions by attaching a charging handle easily to the slide serrations and sliding pistol into it. In some others, you may require to remove the slide that is more time consuming. You can check out and buy a functional conversion kit that doesn't require the dexterity of assembly and disassembly.
2. Portability
Although a conversion kit improves the accuracy of a handgun, it increases the weapon's size leading to influencing its portability. Hence, many manufacturers equip new models with a folding stabilizer or stock letting shooters conceal and transport weapons easily.
You can collapse your weapon to fit in a small bag or get it fixed to your chest. At the time of weapon use, it is easier to unfold the stock and use the weapon. Moreover, some models allow users to fire while the handgun is still folded.
3. Weight
When buying a Glock conversion kit, you should check out the weight and ensure that they are lightweight and easy to carry. Glock handguns are compact and lightweight and the micro-conversion kit should be lightweight, providing a sturdy shooting platform.
4. Construction
Ensure that your conversion kit features a sturdy construction that determines its efficiency. You should go for a conversion kit that is made from a blend of high-density polymer and aluminum that are most suitable for Glock handguns. These materials not only render sturdiness but also make the conversion kit durable and resistant to wear and tear giving firearms enthusiasts lasting service. With the quality and durability, buyers get the best value for money and maximum satisfaction.
5. Ergonomics
One of the most important factors to consider when procuring a Glock conversion kit is its ergonomic design that should facilitate users to shoot better. If you purchase branded Glock Conversion kits or those endorsed by the manufacturer, you are likely to get a superb quality micro conversion kit that will fit your Glock models.
If you are looking for premium Glock conversion kits, you can rely on us for getting the right model that will give you maximum compatibility, high performance, and durability.