Are you interested in buying a Glock? You're not alone; they're some of the most popular handguns in the world. It wasn't long before these polymer-framed pistols started to eclipse their heavier, bulkier steel-framed cousins in popularity, and interest in Glocks is not waning.
But before you take a trip down to your local gun shop, you might want to take a breath and do some research. You may be able to create your own Glock at home with an 80% frame, a jig, some tools, a Glock lower parts kit, and a few other parts.
What the ATF Says
The Bureau of Alcohol, Tobacco, Firearms, and Explosives (BATFE) has specified that 80% lowers and frames are not considered firearms. Therefore, at the federal level, it is legal to possess and purchase them as they are not regulated as firearms.
The ATF has also specified that it is legal to complete an 80% lower or frame (in this case, a Glock 80% frame) so that it can be used to assemble a finished firearm (in this case, with a Glock lower parts kit and some additional parts and accessories), provided the firearm is created for personal use and the person that creates and possesses it is not prohibited.
While it is important to note that some states regulate 80% lowers - even having banned them completely - depending on where you live, you may be able to create a Glock at home with an 80% frame, a Glock lower parts kit, and some other necessaries - but let's take a look at why you'd want to.
No Background Check or Serialization (Depending on Where You Live)
When you go to the gun shop and purchase a gun, you need to fill out a 4473 and then submit to a background check through the FBI's NICS system. This process alone can take several hours or even longer, and some states might require you to abide by a waiting period.
If you create your own Glock from a frame and parts kit, you don't need to undergo a background check or fill out any paperwork. In addition, there's no federal requirement to serialize or register the firearm, though some states, like California, require serialization before completing a project.
Save Money - No Fees, Lower Taxes
Because 80% frames are not considered firearms, they are not taxed as firearms. In addition, they don't need to ship through an FFL, which means you don't need to pay FFL transfer fees. You might be able to build a Glock for a relative bargain.
Learn More about the Inner Workings of Your Equipment
Machining an 80% frame with a jig and drill press and then assembling and customizing a gun is a great, hands-on way to learn more about the equipment you use at the range or in the field. If something breaks or needs to be replaced on your gun, you'll be better prepared to diagnose and rectify the problem once you've had the experience of building on on your own.
Beat the Shortages
For those of you that have not noticed, we are in the midst of a nationwide shortage of guns and ammo. You might go down to the local gun shop and ask to see a Glock, only to be told that their stock is entirely sold out and won't be replenished for months or longer. If you build your own, you might be able to beat those shortages.
Endless Opportunities for Customization
One more good reason to complete a Glock with an 80% frame and a Glock lower parts kit is that there are endless possibilities for customization. If you need a stronger recoil spring or would like a more advanced, more adjustable trigger, you'll be able to easily install them during assembly.
Double Check Your State and Local Regulations
While you may very well be able to create your own Glock at home with a complete lower parts kit, an 80% frame, a barrel, a slide, and some other basic parts and tools, it's important that you know that laws vary considerably by state and locality.
Although it is federally permissible, many states have banned 80% frames and lowers outright and others restrict them, though they may not be entirely banned. New Jersey, Hawaii, New York, Connecticut, Rhode Island, California, Washington D.C., and Washington state have all either banned 80% lowers or regulate them tightly - but laws are always changing and this list could change at any time.
Nothing in this post can be construed as legal advice; nor is anything binding. Please consult your own legal counsel, preferably from an experienced, credentialed firearms lawyer in your state before purchasing or taking possession of an 80% lower or frame.
What Comes with a Glock Lower Parts Kit?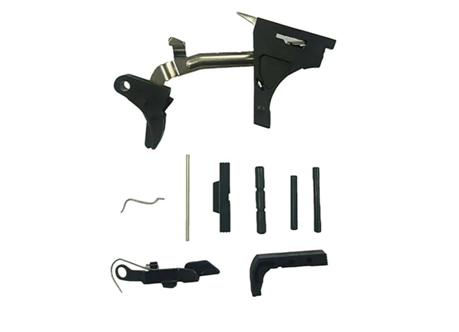 If you're going to complete a polymer 80% frame, you're going to need some additional parts. In addition to a jig and some tools, you may choose a Glock lower parts kit that includes some of the following to make the process more manageable. For example, many of the lower parts kits on our website work perfectly for these projects and contain:
-A mag release and mag catch spring
-Slide lock and slide lock spring, as well as the slide lock lever and spring
-The trigger housing with the ejector
-A 5lb connector
-The trigger pin and spring
-And a trigger with a trigger bar
If you have any questions about the other parts you'll need to complete such a project, please feel free to contact us at 239-848-6757 or at [email protected].