CAA (Command Arms Accessories) Gearup is the preeminent producer of the Micro Conversion Kit, better known as the MCK, which shooters can use to transform their handguns into more complete tactical platforms. CAA Gearup produces (MCK) Micro Conversion Kits compatible with a wide range of popular handguns including models from Glock, Smith & Wesson, Sig Sauer, and Springfield Armory, among others. More than simple braces or stabilizers, Micro Conversion Kits have been developed and extensively tested to provide wide utility to shooters. Among other traits:
-Some kits are compatible with more than one model of handgun.
-They do not require any modifications; compatible handguns can simply be "inserted" into the platform.
-They feature exposed slide releases and have space for spare mags.
-Feature extended stabilizer braces, providing a more stable shooting platform that can drastically improve accuracy out well past 100 yards.
-They are also remarkably expandable with shooting accessories.
On the topic of expandability, CAA Gearup also produces a wide range of shooting accessories that can significantly improve the shooting experience, shrink groups, and extend the functionality of these platforms for competition, self-defense, and more. Here are some of our top CAA MCK Accessories that you can find right here on our website.
1.CAA One Point Sling Combo with QD Swivel
An MCK, even with two spare loaded mags, is by no means heavy. However, if you habitually carry your platform for extended periods - such as in the field - a sling can help reduce fatigue and free your hands to perform more valuable work or carry additional gear.
Our CAA MCK OPS One Point Sling, designed for the Micro Roni Conversion Kit, comes with a sling and sling mount; it features a push-button sling swivel QD mount and is super-easy to operate.
2.MCK Thumb Rests
Arguably the most basic of all the CAA MCK accessories on this list, the MCK thumb rests are available in combo packages or sold on their own. Extremely easy to mount to the left and right side Pic rails of a CAA MCK Micro or MCK Roni, these thumb rests will significantly improve your grip and handling of your weapon for quicker target acquisition and more accurate shot placement.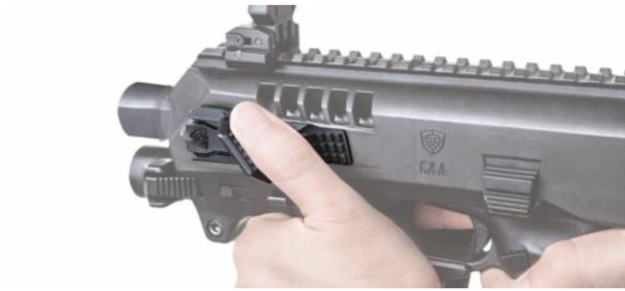 3.CAA Micro Red Dot Sight
Iron sights are great, but training, patience, and conditioning are required to use them effectively and accurately. There are many situations in which a single-point sight, like the CAA Micro Red Dot Sight, can significantly cut down on time to target acquisition, enabling not only more accurate shots but faster, more accurate follow-up shots.
Reflex sights like this red dot sight eliminate the shooter's need to line up sights before making a shot that connects with the target, improving confidence, helping to shrink groups, and eliminating issues with mounting errors.
4.MCKL Integral Green Laser
Reflex sights can improve shooter confidence and shrink target acquisition, but at close range, laser sights can be even more effective. The MCKL Integral Green Laser Sight that we offer here at MCS Gearup can be easily mounted to an MCK, enabling quick, reflexive "point and shoot" functionality.
At close ranges or in the dark, a laser sight can enable quick target acquisition, solve mounting errors, and allow for rapid successive shots, in ways that even a red dot sight might not be able to achieve.
5.MCK Handle Grip Kit
MCK Handle Grip Kits, like the MCK Thumb Rests mentioned above, can improve a shooter's comfort and control. Compatible with various Micro Conversion Kits, these grip kits can improve accuracy and provide better recoil management, enabling a faster rate of fire, greater accuracy, and better control of the weapon.
6.MCK Glass Breaker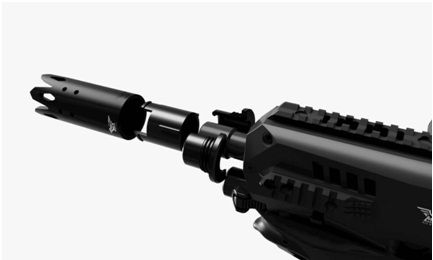 The MCK Glass Breaker featured in the image above is a unique, flanged, muzzle-mounted device that greatly expands the functionality of an MCK as a tactical platform. In certain close-quarters encounters, a shooter is liable to encounter doors, furniture, and other obstacles, including glass. It's never pleasant to be on the wrong side of a glass barrier - whether getting in or out is the object.
Either way, this convenient, easy-to-mount MCK glass breaker will make short work of glass barriers and make your MCK look much cooler in the process.
7.MCK Bipod
Long-range shooting, especially for competition, requires a stable platform. While we know that it's rare to practice long-range shooting with pistol calibers, if your aim is to shrink your groups at long distances, this CAA MCK accessory can be a huge bonus. It will provide you with the stable platform you need to connect with your targets at long ranges.
8.MCK Integral Front Flashlight
Dark close-quarters encounters can be harrowing, and it's always best to have the upper with adequate tactical light. Not only will a light provide better visibility, it may also startle or dazzle an opponent.
Our MCK Integral Front Flashlight mounts easily, improves visibility, features an on/off switch, and provides exceptional light output. Rated at 500 lumens, it's more than powerful enough for most pitch-black close-quarters encounters.
9.CAA USA MCK Gen 2.0 Brass Catcher
Some ranges have requirements that shooters either use brass catchers or do not leave any brass behind. We can't imagine that in today's ammo crisis a shooter would want to leave behind brass, but this CAA MCK accessory will help eliminate that concern anyway.
10.MCK Back Up Flip Sights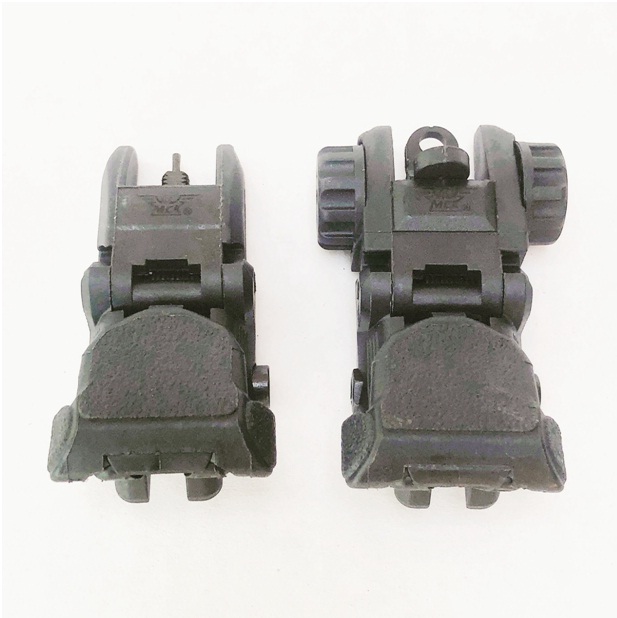 Since an MCK will cover your pistol's iron sights, if you plan to shoot over iron sights you'll need to equip the platform with your own. These flip-up sights fold conveniently out of the way when not needed and deploy in a flash.
11.Aluminum Top Picatinny Rail
Some Micro Conversion Kits like the MCK Gen 2 (compatible with the Glock 17 /19/19x/22/23/31/32/45) come already equipped with top and side Pic rails, but if you need additional flexibility or mounting options, consider an MCK Aluminum Top Pic Rail (MCKTPR) that will expand your compatibility with mounting accessories and offer you additional room as well.
In addition to these top CAA MCK accessories, you should also check out the CAA MCK Advanced Upgrade Kit, which comes with a sling, QD mount, thumb rests, flip-up sights, and a flashlight as well, bundling these essential shooting accessories into a cost-effective package.
Want to learn more about any of these CAA MCK accessories before you pull the trigger? Excuse the pun, but you can check them all out in our collection at the link above - or contact us directly at 239-848-6757 or by email at [email protected] if you have any questions.