Get ready for an inconvenient truth. Handguns are difficult to control, sloppy, and hard to shoot accurately. They can also produce a lot of recoil fatigue since you can't shoulder them.
That, paired with the generally smaller, straight-walled, lighter-hitting cartridges in which handguns are usually chambered, gives the edge to shoulder-mounted platforms built around faster, flatter-shooting, more ballistically efficient cartridges.
But there is a way to improve the handling and performance of your handgun, even if it doesn't change the caliber.
It's called a Micro Conversion Kit, or MCK. Here's what you need to know.
An MCK: What Is It?
An MCK, or a Micro Conversion Kit, produced by CAA (Command Arms Accessories) is a polymer chassis that accepts a wide range of handguns.
It requires no modifications and MCK platforms are drop-in ready.
They expand the platform, add weight and stability, and attachment points, and improve ergonomics.
They also add a stock, which as you know can substantially improve control, handling, and accuracy.
Enhanced Stability
The addition of a stock allows an MCK to convert your handgun into a carbine-style platform, with a short barrel and a stock for enhanced stability.
This makes it easier to handle an MCK-equipped handgun.
Recoil Control
The addition of the stock and the expansion of the platform add not only stability but also weight. The amount of surface area to contact between the platform and shooter also improves.
As a result, an MCK-equipped handgun also offers better recoil control and muzzle-flip mitigation. It is easier to shoot more accurately and make quicker follow-up shots with one.
Accuracy
Many shooters comment that shooting with an MCK has a substantial impact on accuracy, and not just up close. Some even remark that an MCK enables improvements in accuracy out beyond 200 yards.
If you find it hard to wrangle recoil and want a solution - that does not require modifications - that will enable you to shoot your handgun more accurately at extended ranges, consider an MCK seriously.
Expansion-Ready
Another great thing about the Micro Conversion Kit is that it enables nearly limitless opportunities for expansion.
There is a wide range of purpose-designed MCK accessories, many of which we sell right here alongside the MCKs themselves.
If that weren't enough, MCKs feature rail space and are compatible with rail adapters that make it easy and straightforward to mount lights, sights, lasers, optics, and other shooting attachments.
Compatible Platforms
Another awesome thing about MCKs is that they are compatible with some of the most popular handguns on the market.
There's an MCK for Taurus, Glock, Smith & Wesson, Springfield, Sig Sauer, Canik, and CZ handguns.
If you shoot it, there's a good chance there's an MCK for it. Check the previous link for additional details and model compatibility.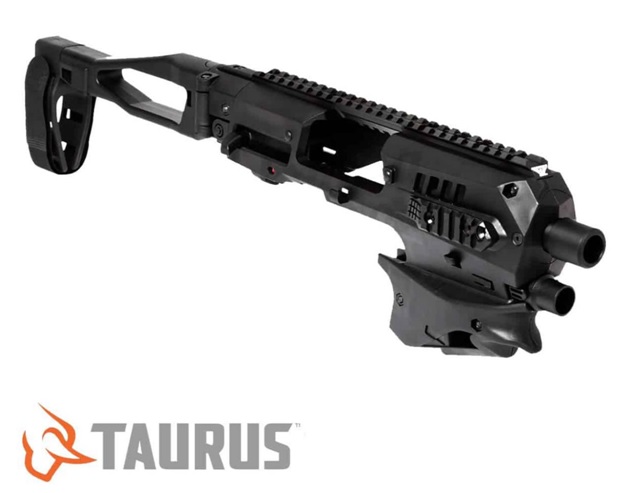 Durable Construction
Like your favorite handgun, a Micro Conversion Kit is built tough. They are made with extremely durable polymer chassis and feature aluminum barrel shrouds.
They offer a high-level of protection to your handgun and can take a beating themselves.
No Modifications Necessary
Unlike many other upgrades, Micro Conversion Kits do not require the shooter to make any modifications.
They are truly plug-and-play compatible with a wide range of popular handguns.
How to Install the Handgun
Not only does the MCK not require any permanent modifications (or any modifications at all) but installing and removing a handgun could not be easier.
At the rear of the MCK, there is a door. Open the door, push the handgun into the recess, then push it up into the charging handle and slide it forward.
Close the door/latch to secure it, and you're good to hit the range.
A Note on Removing/Installing
One thing you will need to note is that if you remove your handgun from the MCK and then reinstall it, your zero will shift.
Just be aware of this. You can easily remove and install your handgun but if you do you'll need to take it back to the range to sight it in.
Definitely, something you'll need to be aware of if you have a red dot or a scope on your MCK.
Check Out MCKs and Accessories Here
Half the fun of shooting an MCK (and it is a lot of fun) is tricking out the platform with MCK accessories to make it truly your own.
Here at MCS Gearup, we carry a ton of MCK accessories including but not limited to lights, lasers, red dot sights, thumb rests, glass breakers, slings and sling mounts, and much more.
And, if you upgrade your MCK with a Pic rail adapter, you can mount any Picatinny attachment you like on there.
These platforms are like a blank canvas. Let your experience and intuition loose and you can create a stable, accurate, easy-handling platform that enables rapid, accurate shots out past 100 yards.