Say you're building a AR-15 at home from a jig kit, an 80% lower receiver, a lower parts kit, and an assembled upper.
Take a look, for instance, at the 10.5" M-LOK 5.56 NATO/.223 Rem Assembled Upper that we sell here at MCS Gearup.
You will notice that this AR-15 upper receiver contains, notably:
●The stripped upper receiver itself
●A 10.5" barrel
●M-LOK rail
●A gas system (block and tube)
●A muzzle brake.
This AR15 upper receiver assembly also contains an ejection port cover, forward assist, and charging handle. Many AR-15 assembled uppers do not. (Interestingly, we covered AR-15 charging handle upgrades in a recent blog. You should read it.)
You will, however, notice that it notably does not include a bolt carrier group, without which, of course, you cannot complete or assemble a functioning rifle.
You have to buy that part on your own, and right about now would be a good time to get familiar with some of the common coatings that are often applied to AR-15 BCGs.
Phosphate Coatings: A.K.A. Mil-Spec
If you've ever heard an AR-15 BCG referred to as "mil-spec" that means it has a phosphate coating. Also, if you see a "matte black" BCG for an AR-15, there's also a good chance that it's a phosphate coating.
These coatings are very affordable in contrast to other BCG treatments and offer some distinct advantages.
One is that they have a little bit of tooth, so they hold on to oil better, which makes them easier to lubricate. That does, however, also mean that you need to be fastidious about keeping them clean as they will wear faster if fouling is allowed to accumulate.
They're also fairly non-reflective, which can be extremely important in combat situations, which is one of the reasons, along with their affordability, that they are considered mil-spec.
Even though their serviceability and durability earn them high marks, there are some drawbacks. The coarser finish requires more attention to keep them clean and they are prone to wearing. Also, phosphate coatings exhibit pretty poor permanent dry lubricity (see below).
Hard Chrome BCGs
Hard chrome BCGs are the first non-mil-spec step up for AR BCGs. Actually, to be technically correct, hard chrome even predates phosphate coatings. Evidently, the first ARs had them.
Hard chrome BCGs are exactly what they sound like. The surface of the bolt carrier group is chrome plated. This makes them very hard and corrosion-resistant.
They're also easy to clean and offer a pretty resilient finish. They're more expensive than some other coatings, but they also offer slightly better dry lubricity than phosphate. They're shiny, though, which is probably one of the reasons the military won't use them.
Black Nitride Coatings
Black nitride is one of the first real improvements in BCG coatings. Black nitride is a special coating that can be applied in a variety of manners - often submerging the part to be treated in a salt bath and running an electrical current through it.
This causes nitrogen to diffuse through a thin layer on the surface of the bolt carrier group. The result is a deep, rich black coating with a semi-glossy finish. Black nitride is extremely hard, making it resistant to scratching and wear.
It is also highly corrosion-resistant, so with routine cleaning, it is nearly impervious to chemical attack. Nitride coatings are very thin and long-lasting.
Despite the fact that nitride coatings are more expensive than some other coatings, there is one more distinct and important advantage: permanent dry lubricity.
This is a term that we have used several times so far in this article so an explanation is in order. Nitride, like several other types of coatings, has a natural "slickness" to it that is known as dry lubricity.
As this is an innate trait of nitride coatings, it is also called "permanent," hence permanent dry lubricity. Coatings that possess this attribute are easier to clean off and can be easily kept clear of fouling, often without the need for solvents. They can typically be removed from the rifle and wiped clean because fouling does not readily adhere to them.
There is another benefit of permanent dry lubricity. As the coating makes the BCG naturally "slippery," the operator needs to use less liquid lubricant. When overapplied, liquid lubricant can actually trap grit, dirt, and fouling, which actually accelerates abrasive damage - so permanent dry lubricity helps protect against that, too.
Nickel Boron Coatings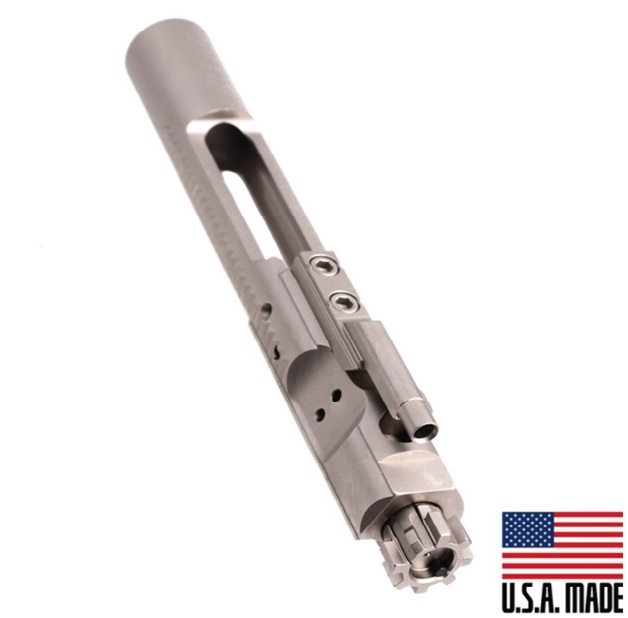 Nickel boron BCG coatings are among the best in the entire industry. Nickel boron, itself, is applied through a metal-plating process that deposits a thin layer of nickel boron on the surface of the BCG.
Like nitride, it is very hard, which makes it resistant to scratches, physical damage, abrasion, and wear.
However, nickel boron-coated BCGs are better than the other coatings mentioned here in a number of ways. First, they have better corrosion resistance than chrome, nitride, and phosphate bolt carrier groups.
Second, they have a lower coefficient of friction, which means that they have better permanent dry lubricity as well. In fact, nickel boron-coated BCGs offer some of the best permanent dry lubricity of all, which means they offer the same benefits mentioned above. Less friction, less heat created during cycling, and less reliance on liquid lubricants that can trap grit and accelerate abrasion.
There are only two potential legitimate concerns with nickel boron. One is that the finish is reflective if that sort of thing bothers you. The other is the cost. There's no way around it - nickel boron can cost a pretty penny. Still, you get what you pay for, so if you purchase a nickel boron BCG with an AR-15 complete upper assembly, you can expect durability, corrosion resistance, and high permanent dry lubricity.
Need More Information Before Purchasing an Assembled Upper? Contact Us
Building an AR-15 with an assembled upper and not sure what BCG coating to pick? Don't be afraid to reach out to us for help.
Along with assembled uppers, we carry a wide range of BCGs on our website with different coatings and finishes, but if you have questions about them, you can reach us at 239-848-6757 or at Sales@MCSGearup.com.