Looking to complete a home build? You're in the right place to get high-quality firearm parts and accessories.
MCS Gearup has what you need - including information. These are some of the most common questions regarding home builds, 80% lower receivers, and AR15 lower parts kits. See if you can get the answers you need here and don't hesitate to reach out to us if you need more information.
What Is an AR-15 80% Lower?
As you may know, AR-15 rifles require both an upper and lower receiver assembly, whereas most other firearms have only one single frame or receiver.
AR-15 80% lower receivers are also known as 80 lowers, receiver blanks, or by some politicians that have never held a gun in their lives, as "ghost guns."
Receiver blanks, A.K.A. 80% lowers, are unfinished lower receivers that cannot accept a trigger, hammer, or safety selector lever, and so cannot be used to assemble a functioning firearm.
However, with the right skills and tools, as well as a special piece of equipment known as an 80% lower jig, receiver blanks can be completed.
How Do I Complete an 80% Lower Receiver?
80% lower receivers lack the pin holes for the hammer and trigger, the safety selector lever hole, and have not had the fire control cavity (FCC) machined out.
There are special tools, or "templates," known as 80% lower jigs, that attach to 80% lowers and can be used to help machine out these pinholes as well as the FCC.
They are essential for completing 80% lowers effectively and efficiently.
What Is an AR15 Lower Parts Kit and What Does It Contain?
An AR15 lower parts kit is a bundle of parts that is required to finish an AR-15 lower once the lower has been completed.
Most standard AR-15 lower parts kits contain:
●A mag catch, button, and spring.
●A safety selector lever.
●A bolt catch assembly, with a plunger, spring, and roll pin.
●A buffer tube detent plunger and retainer.
●Takedown pins and detents (some come with redundant sets).
●Safety springs and detents.
●A trigger hammer pin.
●A takedown pin.
●A pivot pin.
●A trigger guard assembly.
Note that the above kit does not include fire controls. Other AR15 lower parts kits might contain the following, which are also necessary to complete a functioning rifle:
●A trigger.
●A hammer and spring.
●A disconnector and spring.
●A pistol grip, screw, and lock washer.
Do You Need a Pistol Grip?
Yes, you cannot complete an AR-15 build without a pistol grip, as the grip secures the safety lever detent and spring. You will need one to complete the assembly.
Are All AR15 Lower Parts Cross-Compatible?
The AR-15 was originally chambered only in either .223 or 5.56, but through the years, variants have sprung up in countless different calibers.
However, most lower parts (that we know of) are compatible with all AR-15 rifles, regardless of the caliber. This includes the hammer, trigger, detent, safety, springs, pins, bolt catch, and other lower parts.
Even AR-15 rifles that have been manufactured in oddball cartridges (and thus must use different magazines) have cross-compatible lower parts. The magazines themselves have been modified to fit in the original lower receiver magwell dimensions.
However, many upper receiver parts are not cross-compatible, so be aware of that.
Also note that the AR-10 and AR-15, despite their many similarities, are not exactly the same platform. While some parts are cross-compatible between them, not all are.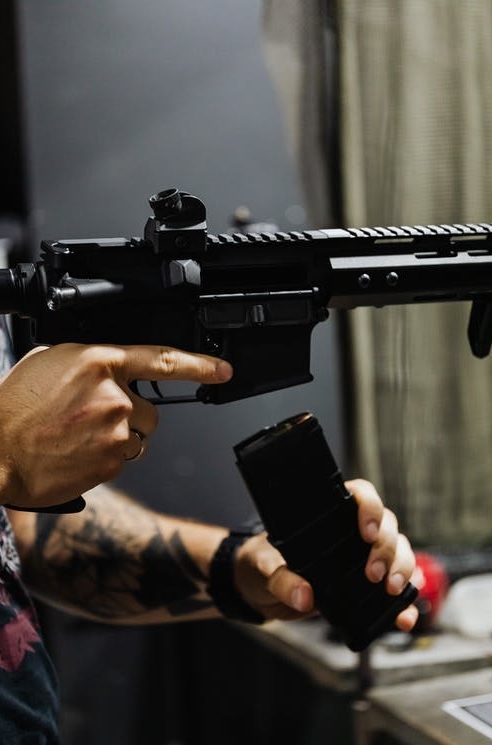 Do AR15 Lower Parts Kits Come with Buffer Tube Assemblies?
Although some AR15 lower receiver parts kits or build kits contain a buffer tube retainer and spring, typically they only come with the parts that actually fit in the lower receiver, which does not include a buffer tube assembly.
However, the buffer tube assembly is required to finish a functioning rifle, as it is the mounting point for the stock and responsible for the forward cycling of the action. You will also need a castle nut to secure the receiver extension/buffer tube.
Besides a Lower Receiver and Lower Parts Kit, What Else Do I Need?
In addition to an 80% lower receiver, an AR15 lower parts kit, a buffer tube assembly, a stock, and the other parts mentioned above, you will also need an upper receiver assembly, or a complete upper receiver, in order to complete a functioning rifle.
Assembled upper receivers generally include a barrel, a handguard, a gas system (a gas block and gas tube), and the upper receiver itself. Not all complete upper receiver assemblies come with a forward assist, ejection port cover, or charging handle, although you will also need these to complete the build.
Many upper assemblies also include a muzzle device, such as a flash suppressor or a compensator (A.K.A. a muzzle brake).
You will also need a complete bolt carrier group to finish a functioning rifle.
Please note that many upper receiver parts are not cross-compatible between models, since the AR-15 is created in many different caliber configurations. You must assemble the rifle with compatible parts.
Bolt Carrier Group Coatings and Performance
One of the most important parts you will choose for your AR-15 is the bolt carrier group, also known as the BCG.
The bolt carrier group has been likened to the "heart" of the rifle. The BCG contains the firing pin, firing pin retainer, bolt, extractor, and gas rings.
It is responsible for loading, firing, and ejecting cartridges.
The original mil-spec phosphate coating, though it is still common on many bolt carrier groups, is no longer your only option.
There are many modern, performance coatings available for bolt carrier groups. We covered some of these in a recent blog. Many modern coatings improve permanent dry lubricity and are highly corrosion resistant.
Take a look through our blog via the link above and choose a coating with your BCG that improves cycling and overall performance.
Contact Us for Help!
Not sure what else you need to complete your AR-15 lower receiver and assemble a functioning rifle? Contact us for help at 239-848-6757 and we will set you up with the parts and tools you need.