A Command Arms Accessories (CAA) micro conversion kit, more commonly known as an MCK, can completely transform your handgun.
Compatible with Glock 17, 19, Glock 20/21, Sig Sauer, S&W, and other popular handguns, you can drop your pistol into a compatible MCK platform and vastly upgrade handling, stability, recoil management, and muzzle flip, with no permanent modifications.
These quick and easy changes can improve your confidence, diminish shooter fatigue, and boost accuracy - in some cases out as far as 200 yards!
But as great as micro conversion kits are on their own, they are compatible with a wide range of micro conversion kit accessories that can improve the shooting experience even more.
Some of the best of them are micro conversion kit accessories like these, all of which are top sellers on our website.
MCK One-Point Sling Push-Button Swivel Combo
The CAA MCK OPS One Point Sling Bush Button Swivel Combo for Micro Roni MCK Micro Conversion Kits is a useful, affordable bundle with a lot of nice features.
This sling-swivel combo is designed to improve weapon retention, free your hands, and provide greater maneuverability and positioning.
This combo enables quicker reaction time, minimizes exposure and allows for quick shouldering of the platform, and incorporates a secure, low-profile quick-adjust slider.
Plus, the sling mount and sling can be attached and adjusted in a matter of seconds.
MCK Thumb Rests
MCK Thumb Rests might seem like somewhat superficial micro conversion kit accessories, but if that were the case they probably wouldn't be among the best sellers on our website.
Instead, MCK Thumb Rests represent an affordable, easy-to-install upgrade that attaches directly to the MCK's Picatinny rails and can vastly improve handling and responsiveness.
They're extremely practical on platforms like these where attachments like vert grips make less sense, but in which cases extra traction on the front of the platform is a beneficial feature.
MCKFL Integral Front Flashlight
There is a saying in certain circles among those who practice preparedness and situational awareness.
What you can't see can kill you.
This is the main reason that so many weapons platforms are appareled by their owners with WMLs or weapon-mounted lights.
The CAA MCK is by right no different, and there are purpose-designed MCK accessories that solve this problem.
For example, there is the MCK Integral Front Flashlight which mounts directly to the MCK platform. It features an on/off switch on the side and delivers 500 lumens of light output.
It's tough, durable, and most importantly, can be used as a WML or simply for general utility. Don't be without one, this is one of the most useful Micro Conversion Kit accessories on this list.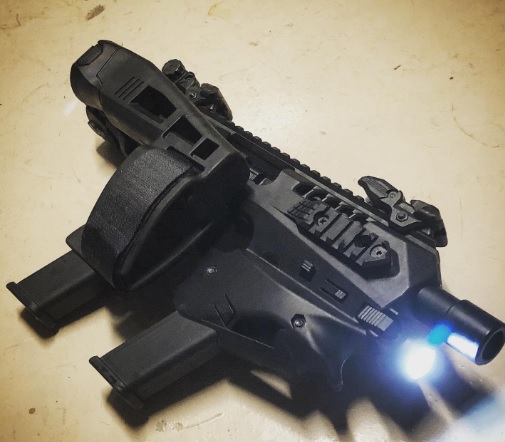 CAA Micro Red Dot Sight
This CAA Micro Red Dot Sight was produced in collaboration with Crimson Trace and offers a number of shooter-friendly features, including:
3 years of battery life
7 different illumination settings for both red and green dot settings
A crisp, 4 MOA dot
A coated, anti-reflective glass lens
Extremely durable design from aircraft-grade aluminum
This MCK red dot sight is also resistant to fog, shock, impact, recoil, and dust.
Shooter-friendly, durable, and easy to operate, this red dot sight is perfect for making rapid, accurate shots in quick succession while keeping an open sight picture. Like other red dot sights, it is parallax free and perfect for reflexive shooting, especially in close quarters.
MCK Flip Up Backup Sights
Last but not least, even if you equip your MCK with a scope or a red dot sight like the one mentioned above, you'll still want a backup that will work in any conditions.
There's a reason that iron sights have been around for hundreds of years. It's because they work.
Flip-up backup iron sights like these have a low profile, remain folded down until needed, and are made from lightweight yet strong polymer for durability and longevity.
You should never be without a high-quality pair of front and rear backup sights even if you never intend to use them. They will work in any conditions, and unlike other optics, actually are waterproof, dustproof, and fog-proof.
Also, the power can never go out on your iron sights - just keep that in mind.
Honorable Mention: MCK Brass Catcher
Even though we're not going to suggest the MCK Brass Catcher will improve your shooting experience in a manner similar to the other accessories mentioned here, it still deserves an honorable mention.
This is because these accessories can be extremely useful for shooters that reload their brass, or for those who shoot at ranges where brass catchers are required.
Plus, if you keep your brass, it's just nice to have a brass catcher so you don't need to bend down and sweep it all up.
Explore Other Micro Conversion Kit Accessories Besides These
In addition to these Micro Conversion Kit accessories, we also sell a number of others, as well as bundled upgrade kits that contain several of them bundled together in cost-saving packages.
While these are some of the best-selling MCK accessories on our website, we offer many others. Take a look through them and get in touch with us at 239-848-6757 or Sales@MCSGearup.com if you have any questions.