By now, you're probably familiar with the Mil-Std-1913 rail system, also known simply as a Picatinny rail or Pic rail system.
The Pic rail system has been a standard for many years. As soon as the Pic rail system was introduced in 1995, it revolutionized the way shooters could attach optics, lights, and other accessories to their platforms.
It consists of a series of slots and flat sections that enable accessories to be slid onto the rail before being tightened and locked into place.
For nearly 30 years, the Picatinny rail system has reigned as one of the dominant interfaces for the attachment of shooting accessories.
However, despite its primacy, it wasn't long before enterprising shooters began to speculate on the potential for an alternative mounting system.
Magpul Industries Corporation, the same company that introduced the revolutionary Magazine Puller (hence, Magpul), was one of them.
They wanted to create a rail system that was lighter than the Picatinny rail system while being durable enough for hard, unflinching use.
They also wanted to do this while ensuring affordability to guarantee that the system would not only be widely compatible with a large range of shooting accessories but also that the system itself would be widely available for use.
The M-LOK handguard system takes a different approach from the Picatinny rail system. Instead of having a series of outward-facing, raised rail slots, the M-LOK system has a slot cut into the handguard, instead of raised above it.
This offers a number of significant advantages to M-LOK rail systems when compared to the standard Pic rail systems.
Attachment Configuration and Security
The Picatinny rail system consists of a series of raised ridges and slots. To secure an attachment, you must loosen the mounts until they can fit around or over the Pic rail, then slide the attachment into position and tighten the hardware.
M-LOK rail systems offer the same amount of flexibility but in a more practical configuration. M-LOK rail mounts use a T-nut instead of Pic rail mounts. To mount an attachment, you simply align the T-nuts with the slot, position the attachment where you want it, and rotate the screw 90 degrees to tighten it.
This provides a very secure interface between the attachment and the rail system that is not only very strong but also recoil resistant. Removal or repositioning of attachments is also very straightforward with the M-LOK system.
Another advantage of M-LOK systems is that there are available Pic rail adapters that you can mount to M-LOK rails in order to render them compatible with Pic-rail-exclusive accessories.
Ergonomics, Comfort, and Handling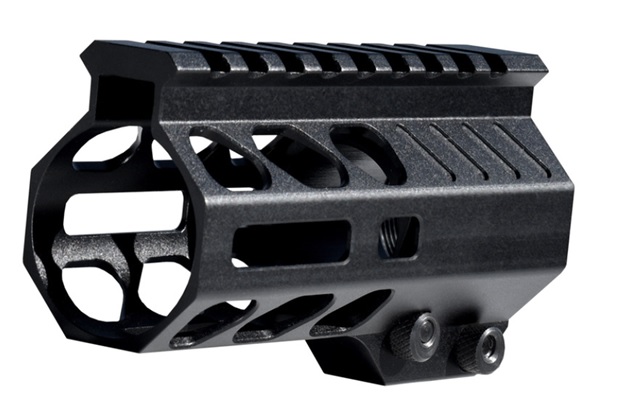 The M-LOK rail system offers some definitive advantages over Picatinny rail systems in terms of ergonomics, comfort, and handling.
While an argument can be made that M-LOK systems are not necessarily more secure than Picatinny systems, there's no argument against bulk and comfort.
The Pic rail's raised slots are bulky, uncomfortable to handle, and can hardly be called ergonomic. The M-LOK, by contrast, offers a smooth, low profile that is comfortable to handle, even without gloves.
The raised ridges of the Pic rail system can be sharp and uncomfortable to handle when firing the weapon. They are abrasive and tend to catch on and tangle in gear, too, especially when the weapon is held close to the body.
Admittedly, you can purchase rail covers to smooth over sections of Pic rail. This makes them more comfortable and provides a more ergonomic grip, but it creates more problems than it solves.
Using rail covers on a Pic rail adds weights and bulk, not to mention the fact that it completely incapacitates the primary function of the rail.
By contrast, a naked M-LOK rail is slim, comfortable, and smooth to handle, without the need to patch it up with covers. This offers much more flexibility and significant advantages in terms of handling, comfort, and versatility.
Weight
M-LOK rail systems also have a very clear advantage over Pic rail systems in terms of weight.
Without all of the external rails, M-LOK systems are substantially lighter than Picatinny rails, without any practical loss of strength or structural integrity.
With all of the extra negative space, much lighter M-LOK handguard systems enable easier, lighter handling and help reduce shooter fatigue as a result.
Price and Compatibility
The M-LOK system was designed between 2007 and 2014 and released in the latter year. You might think being a relative newcomer on the scene, that M-LOK systems and M-LOK compatible accessories would be more expensive, but more often than not, this is not the case.
In fact, it is often more expensive and more resource-intensive to produce Picatinny rails. It takes more raw materials, more machining, and more time to produce them by contrast to M-LOK rail systems which are lighter and less demanding to produce. This helps keep M-LOK systems fairly affordable.
Also, while M-LOK systems are not open-source (like KeyMod, another competing system that has attempted to keep costs low), M-LOK is free-licensed. Manufacturers must secure a license from Magpul before creating mounts and accessories, but the popularity and practicality of M-LOK systems have ensured the production of many different sorts of attachments.
There is no shortage of producers creating M-LOK compatible accessories. While some arms companies still prefer to use Picatinny rail mounts above the receiver for optics, more and more are switching over to M-LOK handguards, because of the benefits they offer.

The fact that M-LOK is free-licensed, the system is popular and the supply of compatible attachments is steady have all kept prices relatively affordable, and ensured that there are plenty of accessories out there that are compatible with M-LOK systems.
Ready to Upgrade Your Rifle with an M-LOK Rail System or Handguard?
In a nutshell, M-LOK rail systems are lighter, more comfortable to use, just as secure, and as affordable (if not more so) than equivalent Picatinny rail systems.
We carry both free float handguards for rifle builds and completed assembled uppers featuring M-LOK handguards, in addition to a wide range of other accessories, including rail adapters and sling mounts, optics, and other shooting accessories.
Take a look through our collection and pick out the handguard that works best for you and your rifle. You'll enjoy weight reduction and significantly improved ergonomics and handling as a result.