Store-bought guns are good, but home builds are great. If you don't like what's on the shelf or in the manufacturer's specifications, you can just adjust it yourself when you're making your own.
That's why some shooters prefer to build their own sporting rifles at home with lower receiver blanks, jig kits, and parts kits (or lower parts kits and assembled uppers).
Many sporting rifles (like AR-15 rifles) consist of two receivers. Whereas most firearms have only one (or a frame) sporting rifles have an upper receiver and a lower receiver.
If you're building your own at home, one of the things you'll have to account for is the upper. Some builders prefer to assemble their own rifle uppers using stripped receivers, whereas others prefer the convenience and time-savings of pre-assembled uppers.
If you go the latter route, here are a few things you should know.
What Comes with Assembled Uppers?
Not all assembled uppers are the same, but for the most part, if you get an assembled upper, it should contain the following parts.
Barrel: This is probably the most important part of the assembled upper, and besides the rifle upper receiver itself, will have the greatest impact on performance. Key things to consider include rate of twist, barrel length, and finish. In general, shorter barrels are more nimble, whereas longer barrels enable higher muzzle velocities. Rate of twist, the number of rifling revolutions performed per unit of linear length, will also impact accuracy. Additionally, barrel finishes will impact hardness, wear, and corrosion resistance, as well as aesthetics. Common barrel finishes are parkerized, chromed or chrome-lined, and nitrided.
Gas system: The gas system, which consists of a gas tube and block, is a central component of the gas impingement system that cycles the action. Look for low-profile adjustable gas blocks, because these are compatible with a wider range of handguards and can be fine-tuned to benefit action cycling.
Handguard: If you get a complete AR15 upper receiver assembly, it should come with a handguard. There are many different types and lengths of handguards with different rail systems, but the three most common are probably Picatinny, KeyMod, and M-LOK handguards. Picatinny rail systems are heavy, but extremely durable, and many accessories are currently available for them. By contrast, KeyMod and M-LOK systems are much lighter and some shooters prefer them.
Muzzle devices: Many assembled uppers come with muzzle devices (although not all do). The two most common types of muzzle devices are flash hiders and muzzle brakes. Flash hiders will obstruct the muzzle flash, aiding in concealment, whereas muzzle brakes will dramatically reduce recoil and muzzle jump. Brakes, in particular, are effective for recoil-sensitive shooters.
Charging handle: The charging handle is necessary to charge the weapon or to manually cycle the action. Complete uppers may come with a mil-spec charging handle, which is good, but there are many better upgrades that are larger, more ergonomic, and easier to access with gloved hands. Some also port gases away from your face. We covered this at length in our post, "Upgrading Your AR-15's Charging Handle."
Forward assist: The forward assist is a component protruding from the receiver that enables the manual resetting of the bolt carrier group into battery when the return spring fails to do so. Most high-quality AR-15 upper assemblies come with them.
Ejection port cover: The ejection port cover is a simple component that helps keep dust, dirt, sand, and other particulate matter out of the rifle's action. Most complete upper receivers come with them but some do not so be aware before buying.
Be aware that while you will need these parts to complete an AR-15 build, and while most assembled uppers will come with them, some do not. Always read the list of included parts, as some upper kits do not contain muzzle devices, charging handles, forward assists, or ejection port covers.
Bolt Carrier Groups and Coatings

Another part that most assembled uppers lack is a bolt carrier group. The bolt carrier group, which contains the firing pin, springs, ejector, extractor, and gas rings, is like the heart of the rifle and is responsible for feeding, firing, extraction, and ejection.
Most assembled uppers do not come with them because builders prefer to customize the rifle with their own solutions.
Bolt carrier groups are available with a wide range of finishes. The standard mil-spec finish is a black phosphate coating, which is durable and non-reflective. However, other alternatives, such as black nitride and nickel boron coatings, offer superior permanent dry lubricity, requiring less liquid lubrication. For more information about different bolt carrier group coatings, please consult our recent blog via the previous link.
You'll Still Need a Lower Receiver Blank, a Jig Kit, and a Lower Parts Kit
Keep in mind that when you're building an AR pistol or rifle, even with an assembled upper you'll still need a lower blank, a jig kit, and a lower parts kit.
The lower blank is a receiver that has not had the voids for the trigger and fire control group milled out yet. You'll need a jig kit and a drill press or a router to complete this portion of the project.
The lower parts kit will contain most if not all of the hardware and connectors necessary to assemble and connect the upper and lower portions of the rifle.
Keep in mind that if your parts kits does not contain a magazine, pistol grip, stock, or buffer tube system, you will need to get these separately.
Lightening the Build with Skeletonized AR 15 Parts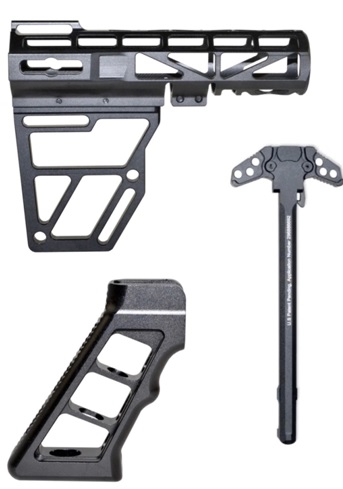 As a final note, some builders prefer to personalize or lighten their custom-built rifles with skeletonized AR 15 parts. We carry a wide range of these lightweight, high-strength, anodized skeletonized AR 15 parts, as well as skeletonized pistol braces. Some of them are available in bright colors so you can add some personality to your rifle build.
To learn more about what we offer, check out our collection via the above link or get in touch with us directly at Sales@MCSGearup.com or 239-848-6757.