In addition to improving stability, mitigating recoil, and extending accuracy, in some cases out past 200 yards, an MCK, or Micro Conversion Kit platform, is highly expandable.
Especially with purpose-driven micro conversion kit accessories, like some of these top choices from our shop.
MCK Thumb Rests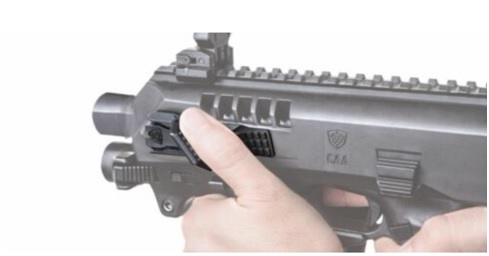 These are probably the most basic micro conversion kit accessories out there, but they improve ergonomics and handling, which in turn translates to easier recoil management and accuracy.
Plus, these MCK thumb rests are extremely affordable and easy to install.
(For Glock Owners) MCK Mag Extensions
Who couldn't use a mag that holds a few extra rounds? These MCK mag extensions, which are designed for Glock mags, can easily add a couple rounds - +5 to the G17, +4 to the G19 and G22, and +3 to the G23. They're also easy to install.
MCK Handle Grip Kits
These MCK handle grip kits are made in the United States, install in 7-10 minutes, and can dramatically improve handling, thereby improving accuracy, control, and recoil management.
MCK Flashlight Laser Adapter
Made from durable, reinforced polymer, these MCK flashlight laser adapters enable you to run both a flashlight and a laser on your MCK, one on each side of the platform. They're affordable, easy to install, made of durable, reinforced polymer, and feature a rugged on/off switch for easy, sure target acquisition.
Flip-Up Backup Sights
There's more than one set of flip-up backup sights at MCS Gearup that are compatible with Micro Conversion Kits, but the point is you need at least one.
If you usually run a red dot or a scope, remember that two is one and one is none. Backup sights are shockproof, dustproof, waterproof, shatterproof, good in all light conditions, and use batteries that can never die.
Always have a backup.
One-Point Slings
The one-point slings we sell for Micro Conversion Kits also come with push-button swivels that are easy to attach and detach, and which improve stability while aiding in weapon retention. These also feature a new low-profile quick-adjust slider mechanism.
(For P80 and Glock Owners) Charging Handle Upgrades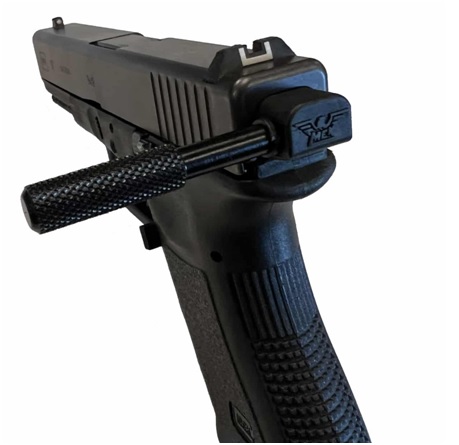 We also carry charging handles designed for Sig P80 and Glock handguns that improve ergonomics and manual cycling for faster charges. They don't look like they'd be compatible with an MCK, but they actually are compatible with Gen 1, 2, and 3 MCKs. The handle can be mounted on the left or right side of the slide; check the listing for details and exclusions.
MCK Brass Catchers
Our MCK brass catchers are made from durable materials to provide many years of reliable service. No tricks here; what you see is what you get. Quit chasing your spent brass around the range floor after a firing session; these brass catchers will do the heavy lifting for you.
MCK Bayonet Glass Breaker
This MCK bayonet-style glass breaker is made from black anodized aluminum and is 4" long. It also mounts to the existing flashlight mount on your MCK, making the upgrade both easy and practical.
MCK Glass Breaker
Not a fan of the bayonet-style glass breaker? We have you covered. Get a muzzle-mounted MCK glass breaker that looks like a flash hider and is made from extremely tough 6061 aluminum. There are a few mounting considerations; see the product listing for additional details.
MCK Bipod
Compatible with a variety of CAA Micro Conversion Kits, this bipod is a must for shooters that practice at extended ranges.
MCK Integral Front Flashlight
There's a saying in this industry: what you can't see can kill you. This Integral Front Flashlight for Micro Conversion Kits is the perfect solution.
Rated at 500 lumens and powered by a CR123, this flashlight is powerful and bright - it's also easy to install.
MCK Aluminum Top Picatinny Rail
This top Pic rail is the ideal MCK accessory in so many ways because, even though it is not exciting itself, it makes your MCK platform even more expandable with additional Micro Conversion Kit accessories.
Command Arms Accessories Micro Red Dot Sight
Red dot sights are free of parallax distortion, enable quick target acquisition, and are great in low-light situations.
This CAA Micro Red Dot Sight was produced in collaboration with Crimson Trace and features 14 settings and a 4-MOA red dot.
It also offers a battery life of up to 1.3 years and is made from aircraft-grade aluminum, making it recoil, impact, shock, dust, and fog resistant.
Glock Barrel Extensions
We also carry Glock barrel extensions that extend accuracy and range, and improve power. They're also compatible with many different Glock generations; consult the previous link for details.
MCK Multi-Gun Case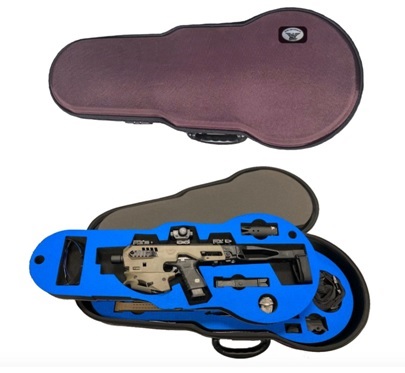 There's no gun case like a discreet gun case, and this is one of the best. Plus, it fits not only MCKs but a wide range of Micron Conversion Kit accessories. It's made with an EVA hard shell case and features tough, no-rip polyester on the inside. It offers top-tier protection to your MCK and an unparalleled level of discretion.
Explore Other Micro Conversion Kit Accessories
These are only some of the top Micro Conversion Kit accessories that we carry here at MCS Gearup. Check out the whole collection via the previous link and if you have any questions, contact us at 239-848-6757.